Artist:
American Zen

Author: The Hippy Coyote
Project Format:

mp3 song downloads individually, or as album


Price:

$8.88 album, 0.88 song


Publisher-Editor: Richard Del Connor
Book Publisher: Shaolin Communications
Release Date:
2/4/2006
Dark broody poetry reflecting the evils of the time and the darkness that confronted Coyote in his first years as a recording engineer.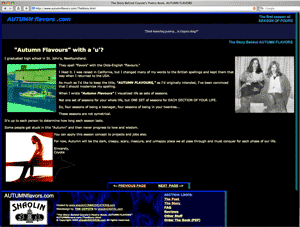 Travel the Autumn Flavours WEBSITE at
for the stories behind the stories of these poetic stories...
Were your teenage years like this?
Free SAMPLES
at:
www.autumnFLAVORS.com


Download the poetry book for $12.88