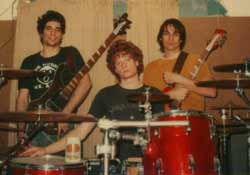 Artist: The Rich (pre-American Zen)
Author: Richard Del Connor (pre-Coyote)
Project Format: Sony cassette recorder with stereo condensor microphones facing band.
Price: 88 cents per 320kb mpg download
Record Producer: Richard Del Connor
Music Publisher: Shaolin Music
Record Label: Shaolin Records
Release Date: 2012
SFR004dm15
THE RICH in 1980:
Bill Stewart
- drums: 28" Ludwig kick drum, Paiste cymbals, 8-ply birch drums
Richard Connor
- lead vocals, 1957 Rickenbacker 4000 bass with flatwounds through Plush Amp
Vinnie Vincent Lauria
- electric guitar, 1978 Marshall Mk.II 50 watt combo amplifier
This 1980 version of THE RICH, featuring Richard Connor on bass and lead vocals, Bill Stewart on drums, and Vincent Lauria on guitar was the tightest in arrangments and musical artistic performance. Coyote says, "If I could have one version of THE RICH again, I'd choose this one." This song, "You And Me," was the first song by The Rich band during every concert, to warm up and give the soundman a good chance to adjust their sound.
Shaolin Records SONG DOWLOADS 88¢ each.

Samples

Song Title

Song Recording Quality

0.88 each

"You And Me" 1980

(good quality live rehearsal recording)