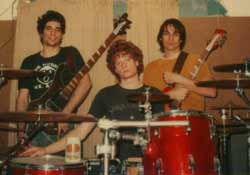 Artist: The Rich (pre-American Zen)
Author: Richard Del Connor (pre-Coyote)
Project Format: Sony cassette recorder with stereo condensor microphones facing band.
Price: 88 cents per 320kb mpg download
Record Producer: Richard Del Connor
Music Publisher: Shaolin Music
Record Label: Shaolin Records
Release Date: 2012
SFR004dm10
THE RICH in 1980:
Bill Stewart
- drums: 28" Ludwig kick drum, Paiste cymbals, 8-ply birch drums
Richard Connor
- lead vocals, 1957 Rickenbacker 4000 bass with flatwounds through Plush Amp
Vinnie Vincent Lauria
- electric guitar, 1978 Marshall Mk.II 50 watt combo amplifier
Other girls have been as much trouble for Coyote as THE girls...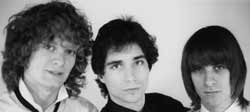 Share Coyote's broken heart with "Other Girls." The Rich always included a bass solo by Richard Connor during performances of the song. Coyote always played his 1957 Rickenbacker 4000 bass with fingers, not a guitar pick on this song. Although Coyote was always anti-disco and anti-slap-bass style playing, he really pounds the strings on this song.
During the rock opera story, Coyote In A Graveyard, Elaine is having an affair with Head Nurse.
Shaolin Records SONG DOWLOADS 88¢ each.

Samples

Song Title

Song Recording Quality

0.88 each

"Other Girls" 1980

(good quality live rehearsal recording)
320kb mp3

"Other Girls" 1990

(professional quality studio recording)
320kb mp3