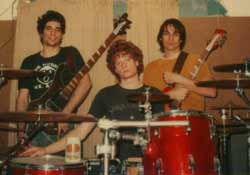 Artist: The Rich (pre-American Zen)
Author: Richard Del Connor (pre-Coyote)
Project Format: Sony cassette recorder with stereo condensor microphones facing band.
Price: 88 cents per 320kb mpg download
Record Producer: Richard Del Connor
Music Publisher: Shaolin Music
Record Label: Shaolin Records
Release Date: 2012
SFR004dm08
THE RICH in 1980:
Bill Stewart
- drums: 28" Ludwig kick drum, Paiste cymbals, 8-ply birch drums
Richard Connor
- lead vocals, 1957 Rickenbacker 4000 bass with flatwounds through Plush Amp
Vinnie Vincent Lauria
- electric guitar, 1978 Marshall Mk.II 50 watt combo amplifier
Bill Stewart had the most amazing drumset. Vinnie purchased a Marshall 50watt MkII just like Coyote's so that they could play in stereo. Coyote also played stereo bass with 8-12" speakers on one side and a 2-15 folded horn cabinet on stage left. "Jealous Guy" was a song that felt good with Coyote's Ricky bass rubbing you down.
Shaolin Records SONG DOWLOADS 88¢ each.

Samples

Song Title

Song Recording Quality

0.88 each

"Jealous Guy" 1980

(good quality live rehearsal recording)

"Jealous Guy" 1989

(professional quality studio recording)